First Draft of the New House
---
---
You've got me. We've been here over two months and I am just now coming up for air. I would like to say that I have been too busy redecorating and attending cocktail parties hosted by celebrity-esque  intellectuals who find my Middle-America Meets World Traveler charm too addicting to do without. But really, I have the local public school "volunteer opportunities" and resort-like weather to blame for my absence. In fact, I took a this shot of an avocado I cut open last week for a salad because it's the perfect visual for what life feels like right now at the new house. Fresh. Delicious! Different! Not without flaws, but oh, how nice!
There were six days of driving. Six days with 2 kids, one dog, a Honda CRV and a large Uhaul trailer grinding around back there like it a surly teenager at an unsupervised school  dance. But we did it! And my kids… my kids were incredible. I'm not saying that because I love them. I'm saying it because everyone told us how hard it would be and, to be honest, we weren't sure we would make all the way across the US. We thought there might be a breaking point where we throw up our hands and buy plane tickets for me and the kids, or, at the very least one of us would have a good cry and curse the gods of relocation. Instead, we drove, we played games, we watched movies, we listened to music, and stopped several times a day to pee. Best of all, we bonded. We were a team. Insert every cliche here because I don't care! I only care that the naysayers (including me) were wrong about the awfulness of such a trip. It worked and we loved it!
In case you missed some of the photographic evidence of the trip, here's another quick look at our cross country adventure.
Finding an affordable, decent place to live in Marin County is not easy. But thanks to Mike's relentless search via Zillow, Trulia and Craigslist, we finally landed a place in Novato. This house wasn't our first choice since it was only three bedrooms and the back yard is in need of a major facelift, but there was something about this kitchen that kept calling out to me. Maybe it was the open design or the the Jerusalem soapstone countertops and floor. Or the spanish style archways. Or maybe the light flooding in from the half dozen windows. Or maybe it was THE VINTAGE STOVE. It was the stove, you guys. It was totally the stove.
It takes me a while to settle on the best location for everything so you can consider this the first draft of what is to come for the kitchen. Having gone from a small kitchen with little room to put my table, I have found myself feeling a bit lost here. I'm pushing for a small island , as a go between for the fridge and the sink. And did you notice the fridge, btw? If you are wondering how I am surviving without my built in ice-maker and water filter, I'm not loving it. Thank goodness we still had our Shaklee water filter.
I know, third world problems. At least we have a house! And the kids get to go to a great school! That school that asks no less than four parents to volunteer helping out in the classroom EVERY DAY. You ever wonder how a school with no money at all still meets and even exceeds state standards? Well now you know. I don't want to hear anyone complain about the demands of their PTA/PTO any more unless they have lived in Marin County California. But that is another post entirely.
I expect much more will happening around Humble Haus now that we have settled in to the new schedule. I'm not sure if the playroom or the back yard that requires the most TLC. While I'm pretty good with organization, the playroom only has so many square feet, and it's simply not enough space for all the toys and furniture we have. Remember those books I love so much? Well, they take up a lot of space. The Legos? Can Legos be used to make an addition to your home? We might have to find out.
And the back yard. Well…. look.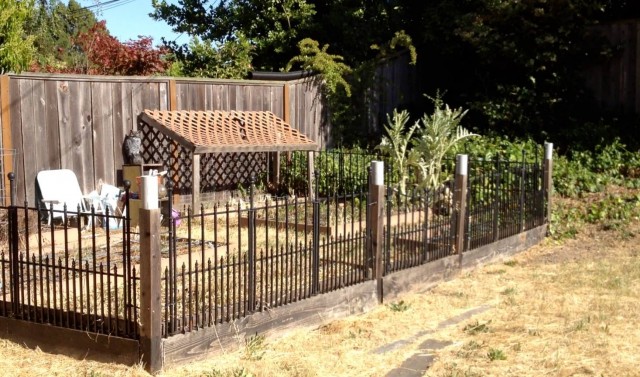 I'm the kind of person who looks at a problem from every angle. I have looked at this yard from every perch. I see a future of overflowing vegetables, fresh herbs, dinner below a strung light chandelier and giggling kids on a trampoline. (Shh! Don't tell them!) I envision this:
But that is the future. Right now, it's just a bunch of dead grass that gives me a headache, the dog itchy skin and my son hives. I hear rainy season is coming and all the grass will grow again. But what do you do with all the rocks and the dead bushes in the meantime?
I know what you are thinking. It is the same thing I think when I stare out into that allergen hell as my poor dog kicks up the dirt and flies. Thank goodness for that stove, that kitchen.
So, as you can see, there will be lots of finagling and creative maneuvering with inexpensive doohickeys around here. The neighbors have been awesome and sympathetic. Our neighborhood itself is full of incredibly nice people living in great houses that are all now just old enough to look stately while needing a bit of work. There are not many houses for sale at all, which is a good sign that we've landed in a desirable spot. If you've ever moved to an area previously unknown to you, you may understand the relief we feel.
To top it all off, every person I have met is very nice. They are from all over the US, these people who ended up in Novato. From Minnesota to Alabama to NYC. And it's like the sun has melted away their stress. I'm almost afraid that if I say this, I will jinx it, but… I am making friends. The kids are making friends too. It's very new and weird and perhaps they are all high, I don't know. It is California, after all. Or maybe it's just that cool stove. But I think we'll stay and find out.
---
---